Crystal candles are one of my favourite tools for enhancing my manifestation practice.
I find them such a simple way to heighten the energies that I'm trying to work with.
The best crystal candles are infused with properties that will heighten your practice and come with a whole host of benefits that we'll discuss a little further in this post.
But the truth is, crystal candles aren't all one in the same and buying any old crystal candle may not work for what you're trying to manifest.
Which is why it's important to understand the properties of the crystals in a candle, and what intentions they're best for.
This is why I love having a range of crystal candles for different purposes, depending on my own mood and what I am trying to manifest at the time.
And I'm going to teach you how to pick out the best crystal candles for your intentions so that you can customise your practice like this too – let's get into it!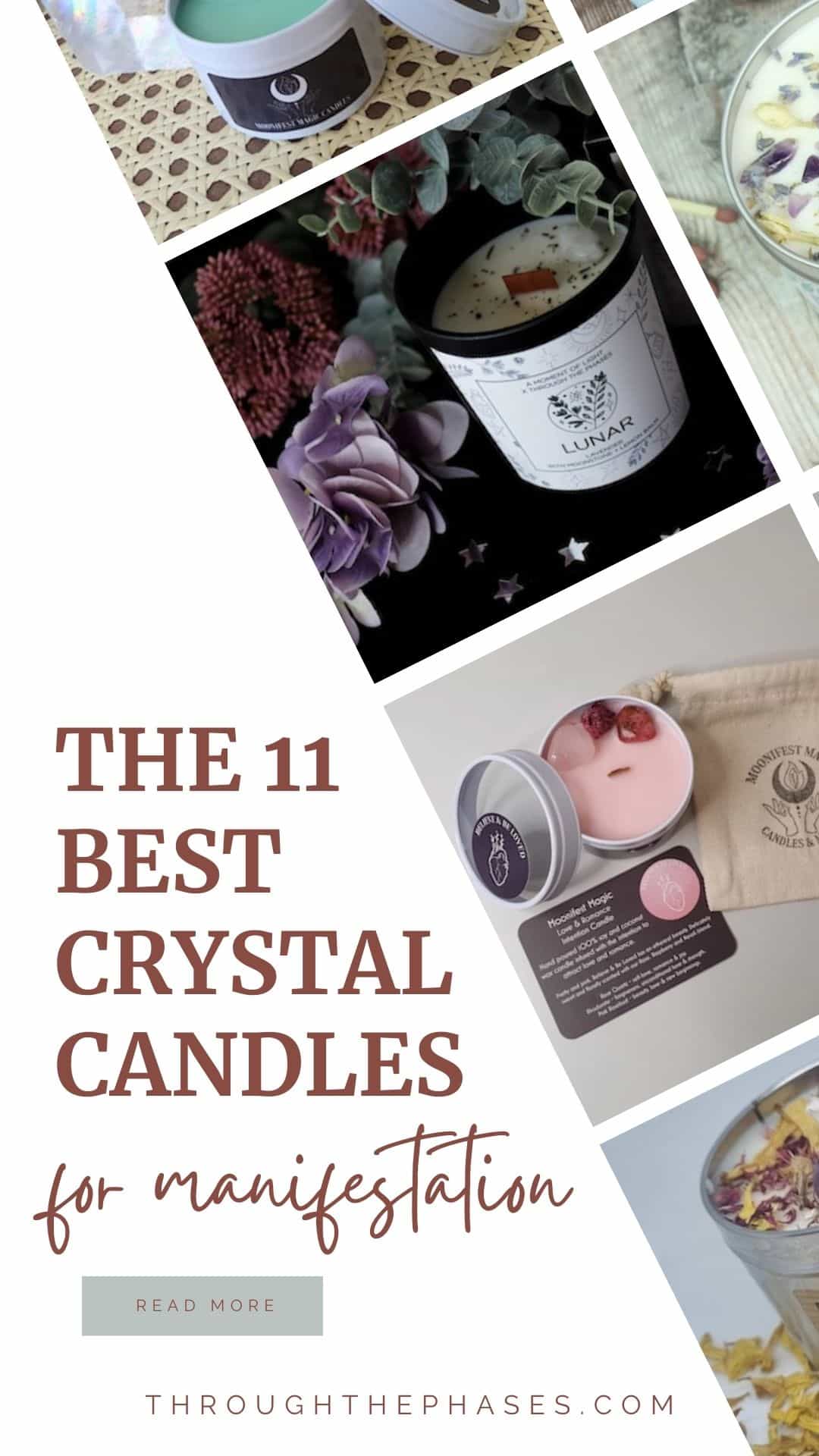 This post may contain affiliate links. Click here to read my full disclosure.
What is manifestation?
Manifestation is the process of attracting something from your imagined or desired reality into your physical reality.
We are manifesting all the time, whether we know it or not, through laws of the universe that attract things based on our energetics.
But what most people understand manifestation as is the conscious ability to control this process and to intentionally manifest what we actually desire.
Learning to master this process means that you can live a more fulfilling life filled with people, things and experiences that you actually desire and are meaningful to you.
What are crystal candles?
Crystal candles are candles that are either infused with the energy of crystals during the pouring process, or candles that contain physical crystals in them.
When burning the candle, it is thought that the energy of the crystal will be heightened and released into the atmosphere.
The best crystal candles will also contain certain herbs or scents to compliment the crystal within them. This helps to marry the intention of the crystal candle and increase its potency.
What is the point of crystal candles?
Now, there's no doubt about it that crystal candles make a beautiful statement in your home, and to some people they will be little more than an accessory for the mantelpiece.
But truth is, there is much more to crystal candles than just looking pretty.
There are several benefits of crystal candles that make them an ideal item to use in your personal growth or spiritual practice…
Benefits of crystal candles
These are some of my favourite reasons to use crystal candles:
1. Crystal candles enhance manifestation
The most obvious benefit of crystal candles is their ability to enhance your existing manifestation practice.
With each crystal candle containing different crystals and herbs with specific properties, you can tailor the burning of candles to whatever you are trying to manifest.
The act of working with the crystal candle can allow you to tune into its specific energy and get into the right energetic space to attract your desire.
For example, working with a crystal candle designed to enhance feelings of love and connection can help you to more easily and effortlessly manifest love in your own life.
And the best part is that it doesn't have to require much more effort on your part. In some cases just lighting the candle in your home environment is enough to connect to the energies you need to.
2. Clearing stagnant energies
Our homes are filled with all kinds of energies, some of which are stagnant and do not serve the person we're trying to become or where we're trying to go.
Just think about it, if you've been in your home a long time you've been through all kinds of things there, some much less positive than others.
I lived in my first home for my entire childhood up until I was 21. And let me tell you, by the time I moved away from that space I felt like it was no longer serving me.
In part this will be an emotional or psychological connection of course, but I have no doubt that energetics have a part to play.
And if you consider living in an old house or a rented property that's had lots of other people there, that's a lot of old and stagnant energy hanging around if you don't clear it.
I love using a combination of crystals and incense or burning sage to cleanse stagnant energy from my space. But the beautiful thing about crystal candles is that they almost marry these practices together.
When you burn a crystal candle designed to clear energy, you can freshen up your space to make way for new energy and feel more clarity.
I personally like to light a crystal candle when I clean my home and then I really feel like the space is brand new and there's nothing stagnant holding me back.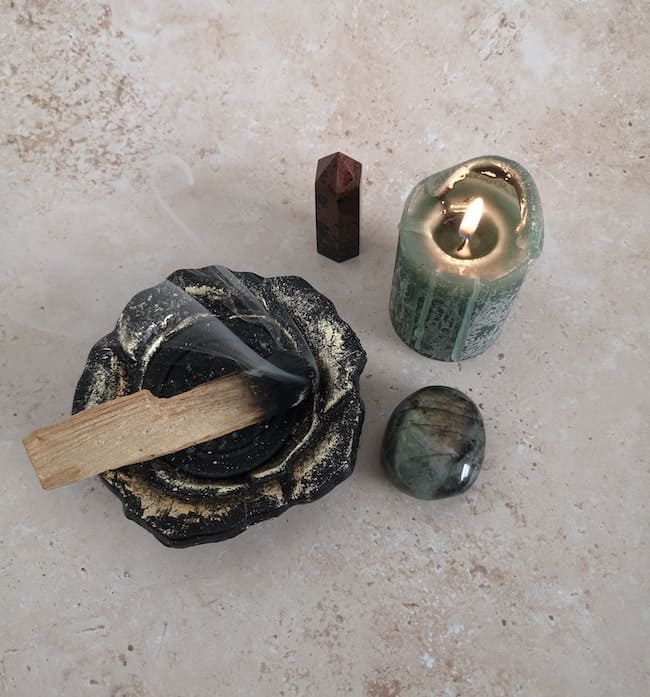 3. More mindfulness
Lighting a crystal candle can also be an act of mindfulness if you choose for it to be.
Just watching the candle or engaging in a candle meditation like this can be a way to bring more calm and stress reduction into your life.
Crystal candles are especially good for this because you have the properties of the crystals to give the mindfulness practice a little boost.
And if you have a crystal candle that combines herbs and scents to match these properties, then this will be even further enhanced.
Aromatherapy can be a very powerful tool for reducing stress and getting into a desired state of mind. So when you're looking for a crystal candle with certain benefits don't forget to take the scent into consideration!
How do you use crystal candles for manifestation?
I personally don't think there is a right or wrong way to use crystal candles for manifestation, and your individual practice can be as simple or as complex as you want to make it.
For example, for some people just lighting the candle and letting the properties infuse into their space is enough for them to know they are gaining the therapeutic benefits and enhancing their manifestation capabilities.
But for some, you may want to turn using your crystal candle into more of a manifestation ritual or mindfulness exercise.
If this sounds like something that might benefit you, you could try a candle meditation like this one, and combine it with repeating a manifestation mantra in your mind that aligns with your desire.
Or you may want to create some kind of spell jar centred around your intention, using the wax from your crystal candle to seal it shut.
In truth, what matters more than the exercise itself is your intention behind it. If you light your crystal candle with a specific intention behind it then this can take you far when it comes to manifestation.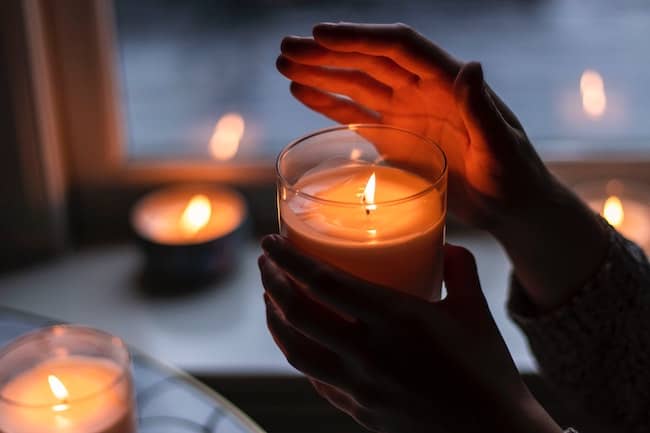 What crystals are good for candles?
Any crystal can be powerful in a crystal candle, but if you have a specific intention or desire that you're working with then you want to make sure that the crystals in your candle align with this.
That's because every crystal has its own unique properties and some will be more beneficial for manifesting certain desires than others.
Having knowledge about the best crystals for manifesting different desires is a powerful tool to get the best results in your manifestation practice.
So with that being said, here are some of the best crystals for crystal candles based on common desires and intentions.
For love
For love, the crystals you want to work with in your crystal candle will typically be pink in colour, though some may also be green.
Rose Quartz tends to be the most common crystal for manifesting love, but other crystals that might work for you include Pink Agate, Jade, and Rhodonite.
For money/wealth
My favourite crystal to use for manifesting money or wealth is Green Aventurine.
Other crystals you might want to look for in crystal candles for money and wealth are Amazonite and Pyrite.
For protection
Protection stones tend to be dark in colour and are perfect for crystal candles centred around energetic cleansing and protection.
Some of my favourite stones for protection candles are Black Tourmaline, Obsidian and Smoky Quartz.
For happiness and healing
When using crystal candles for happiness and healing, there are lots of crystals to choose from.
But some of my favourite stones for this purpose include Calcite, Pink Opal, Blue Lace Agate, Tigers Eye and Sunstone.
The best crystal candles for manifestation
Now that you know some of the best crystals for crystal candles and how to use crystal candles for manifestation, let's look at some of the best crystal candles for this purpose.
These candles are all chosen because they have powerful properties and are expertly designed to be used with a specific intention in your manifestation practice.
They tend to combine crystals, herbs and scents that marry well together and I've also leaned towards handmade products made with intention rather than factory made candles which will have been made less intentionally.
I hope that you find a new crystal candle that you love in this list so that you can begin enhancing your own manifestation practice!
---
1. BEST CRYSTAL CANDLE FOR LOVE AND ROMANCE
This crystal candle is designed for manifesting more love and romance in your life. It is scented with the loving scents of rose, raspberry and neroli. To enhance your love manifestation this candle contains Rose Quartz and Rhodonite crystals, as well as rose buds. It also comes with a handy affirmation guide and a pouch to keep your crystals once you've finished the candle!
---
2. Best Crystal candle for Wealth & Success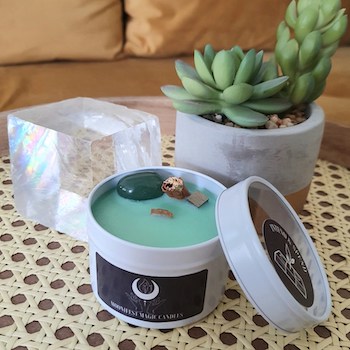 From the same makers as the love candle, this candle is designed to manifest more wealth and success in your life with a combination of Green Aventurine and Pyrite crystals, as well as gold leaf cinnamon sticks to heighten your intention even further.
---
3. Best Crystal Candle for Shadow Work & Protection
This extra large shadow candle is expertly designed for energetic protection and for use during shadow work rituals like journaling and introspection. It has an earthy scent of sandalwood and black pepper, and is infused with rosemary and Black Obsidian for their protective properties.
---
4. Best Crystal Candle for Calm & Relaxation
This Amethyst infused candle is ideal for moments when you need more calm and relaxation in your life. It features smaller Amethyst chips rather than one mainstay crystal, and it's also infused with jasmine and lavender buds for more calming. This crystal candle is actually available in six different scents so you can choose what aligns with your intention the most.
---
5. Best Crystal Candle for Heightened Intuition
This Vision crystal candle is designed to heighten your intuition and get you in touch with your own spiritual energy. The candle has a warming and awakening scent of spiced berry and is also infused with lavender and an amethyst crystal for opening the third eye chakra.
---
6. Best Crystal Candle for Healing
This crystal candle is designed for its healing properties, featuring Clear Quartz as its candle for clearing stagnant energies and getting into a healthier energetic space. This crystal candle also comes with both a candle information card and crystal information card so you can learn to use the crystal candle to its full potential.
---
7. Best Crystal Candle for Happiness
This crystal candle is designed for manifesting more happiness with its unique minty scent. The scent comes from peppermint essential oil and the candle is also infused with Labradorite to heighten your intention.
---
8. Best Crystal Candle for Strength
This Strength crystal candle is reiki charged for even more energetic benefits. It contains two Rainbow Moonstone crystals for strength, which you can choose to have within the candle or separate if you prefer. You can also choose from a whole range of scents depending on what helps you connect most to your intention.
---
9. Best Crystal Candle for Friendship
This crystal candle was designed for manifesting friendship, with both Amethyst and Rose Quartz crystals. It features a vanilla scent and is perfect for manifesting new friendships or reconnecting with old friends.
---
10. Best Crystal Candle for Moon Rituals
This Lunar crystal candle is perfect for including in your moon rituals. It features a calming lavender scent, lemongrass herbs and a Moonstone crystal to deepen your connection to the moon phases and your divine feminine energy.
---
11. Best Crystal Candles Set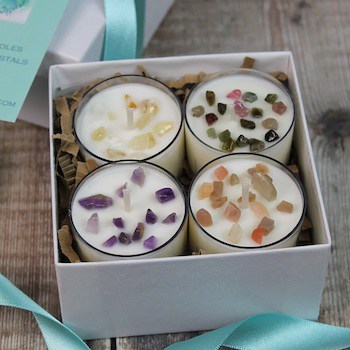 If you prefer to burn smaller candles, this crystal candles set is perfect for you. This gift box comes with four separate tealights with amethyst, moonstone, citrine and tourmaline crystals for a variety of intentions. You can also choose from three scents.
---
And there you have it, those are the best crystal candles for manifestation.
No matter what you are trying to manifest, I feel confident that there is at least one crystal candle in this list that will be a perfect fit for you on your journey!
Don't forget, the most important part of working with your crystal candle is setting a meaningful intention while lighting/burning it.
The rest is largely up to the properties of the crystals and herbs in the candle, so make sure you take these properties into account when purchasing your candle!
Want more content like this? Check out these posts…
And don't forget to pin this post!
---
Esther is the founder of Through the Phases. Her mission is to guide others to grow to their full potential and create their dream life using spiritual and personal growth practices. Read more about her story here!
---