More and more people are learning about the magic of essential oils, and are turning to this natural form of therapy for everything from improved mood to relief from the common cold!
One of the most popular is lavender essential oil – if you've ever smelt this delicious purple plant then it's not hard to understand why. (It's actually one of my favourites!)
Which means more people, like you, are also on the hunt for the best lavender essential oil to add to their wellness routine.
The trouble is, an increase in awareness and popularity of essential oils inevitably means a bigger market. More and more companies are coming out with products that claim to be high quality lavender essential oil, but when you delve a little deeper… they just don't cut it.
I know firsthand that some lavender oils out there are awful, and certainly don't have the healing properties that a good quality lavender essential oil does.
If you're new to essential oils, this can be confusing and overwhelming. Let's face it, none of us want to waste our money on a product that isn't what it claims to be!
That's why in this post I'm breaking down what to look for when purchasing lavender essential oils, along with the 8 best lavender essential oil brands that pass the test of quality!
This post may contain affiliate links. Click here to read my full disclosure.
About the Lavender Plant
First and foremost, where does lavender oil come from?
Lavender, otherwise known as Lavandula, is actually one of 47 flowering plants in the mint family.
It grows across Europe, as well as eastern Africa, the Meditarranean, southwest Asia and southeast India.
The specific species that we often think of when we refer to Lavender is Lavandula angustifolia, also known as English lavender. It is light purple in colour and has been used for centuries in traditional medicine and cosmetics due to its reported benefits.
Benefits of Lavender Essential Oil
Before we get onto what to look for in the best lavender oil, what are those juicy benefits of lavender essential oil that we're talking about?
For me personally, lavender oil has been a staple in my wellness routine for its proven calming and sleep boosting properties. But there are actually many more benefits of lavender essential oil that most people aren't aware of.
The pure oil that is extracted from the lavender plant is said to have the following benefits:
1. Improves sleep
One of the most widely recognised benefits of lavender oil is as a sleep aid. So much so, that there are many sleep products on the market containing the oil – such as pillow sprays, sleep lotions and weighted eye pillows.
For me personally, lavender oil in an essential oil diffuser is the perfect way to wind down and get my nervous system ready to sleep. And pillow sprays have become a staple in my routine particularly when I'm having difficulties sleeping.
According to the research, lavender has been shown to have mild to moderate benefits for sleep dysfunction when inhaled. However, reviews note that although findings are promising, more scientifically rigorous trials are needed to establish true effects.
2. Reduces stress and anxiety
As I mentioned before, another reason that I love lavender oil so much is that it reduces stress in general.
An evidence based review ​of Silexan, an orally administered lavender oil preparation, found that it was significantly superior to placebo in patients with subsyndromal anxiety. It was also comparable to starting doses of Lorazepam in those with generalised anxiety disorder.
Furthermore, Silexan was found to be beneficial for co-morbidity symptoms of anxiety disorders, such as disturbed sleep, somatic complaints and decreased quality of life.
Not only this, but the smell of lavender oil alone has been shown to decrease anticipatory anxiety in dental patients! Current anxiety levels were measured as lower in patients who were waiting for their appointment under the odor of lavender, compared to a control group with no lavender scent!
Related: ​8 Herbal Remedies for Anxiety R​​elief​​​
3. Eases pain
Lavender essential oil may also be able to reduce pain, potentially due to the way it calms the nervous system.
Aromatherapy with lavender oil has been found to decrease the amount of pain medication needed in post-tonsillectom​​y pediatric patients. However, there was not statistically significant results on pain intensity and frequency of nocturnal awakening.
4. Antiseptic and anti-inflammatory
Like many other essential oils, like tea tree for example, lavender essential oil also has antiseptic and anti-inflammatory properties that make it great for healing minor wounds naturally.
In studies of wound heal​​ing in mice, lavender oil was shown to be superior to saline solution and povidone iodine at closing wounds rapidly.
5. Treats fungal infections
Many people that suffer from fungal infections (sometimes referred to as candida) turn to natural remedies to heal said infections. And lavender oil may be perfect to add to the mix!
A variety of lavender oil known as Lavandula viridis has been shown to disru​​pt the cell membranes of Candida albicans, demonstrating that lavender oil may be an effective anti-fungal remedy.
6. Promotes hair growth
Studies in female mice have found that topical application of lavender oil improves number of hair follicles, hair follicle depth and dermal layer thickness.
This suggests that lavender oil may be an effective hair growth promoting agent! So try experimenting with mixing lavender essential oil to a carrier oil and using it between washes to encourage hair growth.
7. Decreases premenstrual symptoms
The time that I most often reach for lavender oil to calm and soothe me is right before my period when I naturally feel more stressed.
And the research tells me exactly why. Ten minute inhalation of lavender oil has actually been shown to alleviate premenstrual emotional symptoms in women with mild to moderate subjective premenstrual symptoms, partly by improving parasympathetic nervous system activity.
Side Effects of Lavender Essential Oil
So now we know the potential benefits of lavender essential oil, but are there any side effects?
While I haven't personally experienced any side effects from using lavender essential oil myself, everyone responds to different essential oils and compounds differently and it's worth bearing this in mind before experimenting with a new essential oil.
Luckily side effects of lavender essential oil are rare and often mild in nature. However, possible side effects can include:
Severe drowsiness
Constipation
Headache
Increased appetite
Skin irritation
If any of these side effects occur, stop using the product and seek advice from a doctor.
How to Use Lavender Essential Oil
There are many different ways to use lavender essential oil to get the most out of it.
Some of the best ways to experience the benefits of lavender essential oils are:
1. Aromatherapy
One of the most popular ways to use lavender essential oil (and my favourite) is in aromatherapy!
An easy way to get the benefits of the lavender scent is to add it to an essential oil diffuser. A couple of drops mixed with water allows the aroma of lavender oil to release gradually into your environment for beneficial effects!
Alternatively you can place the oil in an aromatherapy necklace, inhaler, or simply put a couple of drops into a tissue or your hands for immediate relief!
To make your own DIY lavender oil pillow spray for a more restful sleep, add a few drops of lavender essential oil to a fine mist spritzer bottle, along with water. This mix can also be used to spray around your sacred space or meditation room to encourage relaxation!
2. Massage
Lavender essential oil is perfect to add to use in massage due to its relaxing aroma, which helps to relax and soothe sore muscles.
The essential oil should be diluted with a carrier oil before using it to aid with massage. Some popular natural massage oils include extra virgin coconut oil and jojoba oil.
3. Skincare
Since lavender oil is thought to be both antiseptic and anti-inflammatory, it is a great essential oil to use in acne prone skin.
To use it, you can add a couple of drops to your favourite moisturiser or to a non-comedogenic carrier oil such as organic rosehip oil for even more benefits!
4. Capsules
Some of the benefits of lavender essential oil previously discussed come from ingesting the oil. Supplements are available containing the essential oil, such as Nature's Way CalmAid.
While some users have reported benefits from using lavender oil capsules, caution should be taken before ingesting essential oils in this way as products such as the one mentioned are not regulated by the FDA.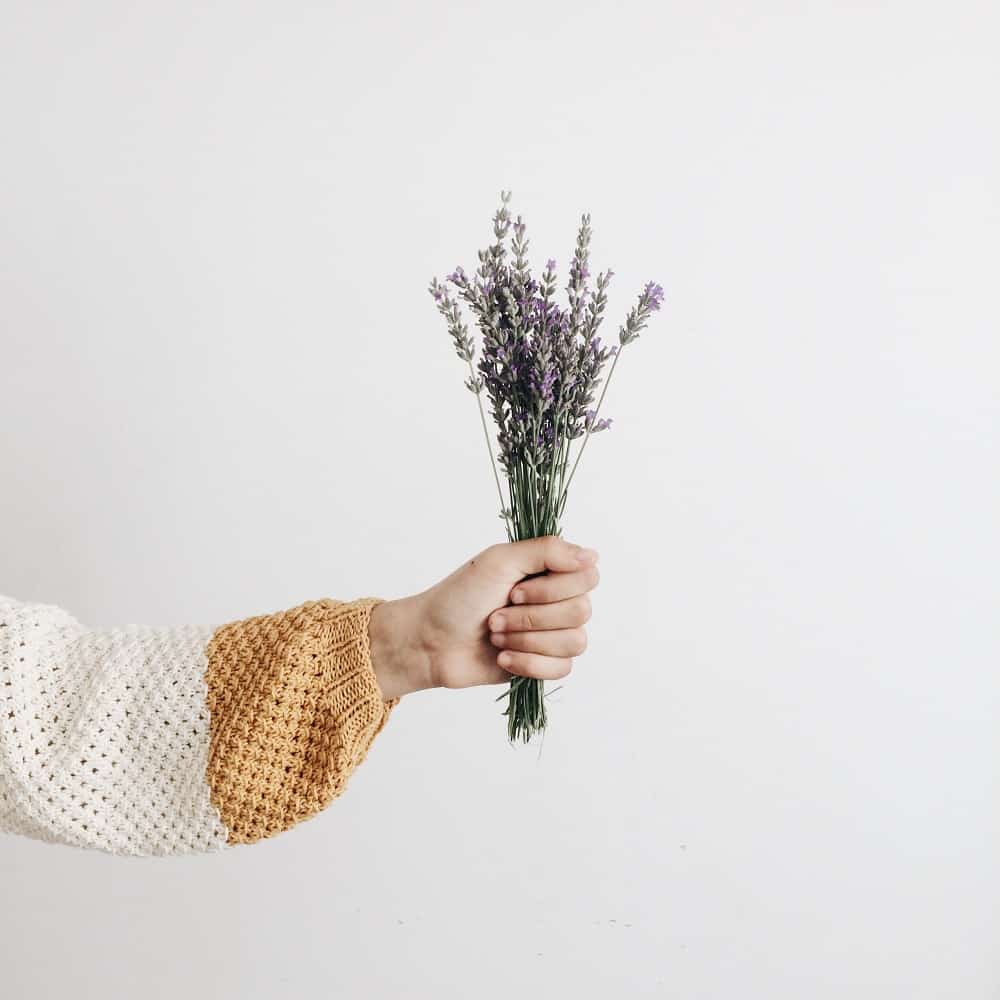 Lavender Essential Oil Precautions and Warnings
Just to be on the safe side, here are some precautions and warnings to bear in mind before using your lavender essential oil.
Always do a patch test before topical use
Always dilute the oil with a carrier oil before topical use
Consult your doctor before using if you are pregnant or breastfeeding
Take with caution and analyse effects before driving
Check interactions with other herbal supplements or medications before using
Keep out of reach of children and pets as essential oils can be toxic when ingested in large amounts
How to Choose the Best Lavender Essential Oil
Now that all that stuff is out of the way, let's get into how to choose the best lavender essential oil to experience those benefits we've discussed.
Since lavender essential oil products are not regulated by the FDA, it is up to you to make sure you source the oil from a reputable brand.
Luckily I've been using lavender essential oil for many years now and I know exactly what to look out for when choosing a new brand or product containing the oil.
Before I let you in on what I believe to be the best lavender essential oils on the market, the following are some guidelines to help you ensure you are purchasing a high quality product when researching yourself...
1. Lavandula angustifolia
Lavandula Angustifolia is the most researched form of lavender and is thought to have the most calming effects on the mind and body.
Although there are other beneficial lavender species, it is best to keep an eye out for Lavandula Angustifolia if you want proven benefits, especially if you are a beginner!
2. Lavender essential oil vs Lavender oil
Are lavender essential oils and lavender oils one in the same?
While the two terms may be used interchangeably, you should be looking out for "essential oil" when choosing your product. The reason being that simple "lavender oil" may be disguising what is actually a fragrance oil.
Unlike essential oils, which are extracted from the plant, fragrance oils are artificially created scents.
While a lavender fragrance oil may smell like lavender, it will not have the same benefits as pure lavender essential oil will! Worse, it could be dangerous!
3. Steam distilled
The method of extraction makes a huge difference to the quality of the finished product!
You should always look out for essential oils that are steam distilled. However, there are other factors that also affect the quality of the distillation process – you can read about them here.
4. Organic
As with anything that we plan to put on or in our body, organic is best!
Non-organic lavender will contain pesticides, fungicides and herbicides, which will ultimately make their way into the finished product. These chemicals are certainly not something we want to be inhaling or ingesting!
5. Price
The cost of any product will no doubt play a part in your decision to purchase it, but in the case of essential oils, cheaper isn't always better!
High quality essential oils aren't cheap to process and lavender essential oil is no exception. As a general rule of thumb, if it seems to be too good to be true… it probably is.
Top 8 Best Lavender Essential Oil Brands
There are so many lavender essential oil brands on the market, and it can be difficult to distinguish the good from the bad.
Of course I've just told you some of the things to look out for if you want to do your own research, but I've saved you some of the work by providing you with this list of the top 8 lavender essential oil brands.
It is worth noting that this was originally intended to be a top 10 list, but I had trouble finding 10 products that met my high standards!
When digging deeper on two brands, I actually came across claims that they had failed third party tests… and while I cannot say for sure whether this is the case, I have no business promoting any brand that I don't 100% believe in.
So with that being said, these are the best lavender essential oil brands around. I've placed them in order of quality based on the criteria above, as well as mine and other users' experiences!
---
1. Sky Organics Lavender Essential Oil
Sky Organics was launched by Sara-Jade, a mum on a mission to create truly natural health and beauty products after her own difficulties sourcing high quality products on the existing market. Her goal is to deliver only pure organic products with no added chemicals, at a reasonable price. I think Sky Organics achieves just that!
All of Sky Organics essential oils are ethically sourced from artisan farmers across the world who incorporate responsible work ethics and use no pesticides. The team then lovingly produce and package their products in small batches in the USA. What's more, Sky Organics pride themselves on being cruelty free, guaranteeing that they never test on animals!
Sky Organics lavender essential oil is steam distilled from organically grown french lavender and contains no additives or fillers. The resulting product is a 100% pure organic lavender essential oil, which is USDA approved and vegan!
This lavender essential oil has a potent smell, which is soft and floral. This makes it perfect for use in aromatherapy, with calming effects for those who suffer with stress, anxiety or insomnia. Sky Organics also go above and beyond to show you other ways to use this oil, providing anybody who purchases it with a free eBook on how to use essential oils!
---
2. Neal's Yard Lavender Essential Oil
Neal's Yard is a UK based company that I love and trust for their high quality products and sustainable ethos. All of their products are 100% organic, cruelty free and ethically sourced. They are pioneers in sustainability having been Carbon Neutral since 2008, using 100% renewable energy and contributing to worldwide causes and bee-saving initiatives.
Neal's Yard organic lavender essential oil is steam distilled from Lavender Angustifolia sourced from France. It is 100% cruelty free and vegan, and comes in one of the brand's signature recycled blue bottles which protects the product from degrading in sunlight.
The smell is also very true to the lavender plant and long-lasting which is a serious win if you're looking for one of the best smelling lavender essential oils on the market! This is actually my personal favourite.
---
3. Eden's Garden Lavender Essential Oil
Edens Garden is a family owned company of women who started their dream of sharing high quality, affordable essential oils with people searching for effective natural products in 2009. As they have grown into the voted #1 non-MLM essential oil company, their values of safety, quality and sustainability have remained the same!
All of Edens Garden's essential oils are 100% pure therapeutic grade oils without bases, fillers or additives. Each product goes through multiple rounds of testing to ensure the highest quality and safety of the oils! They are also stored in a temperature sensitive room with minimal light to ensure the benefits are not compromised.
Edens Garden essential lavender oil is steam distilled from fresh Lavender, is unadulterated and free of synthetics. It is also guaranteed vegan and cruelty-free! This oil comes in 5 different sizes, and even a roll on, which is perfect for on the go relief!
---
4. Tisserand Lavender Essential Oil
Tisserand is one of my personal favourite essential oil brands, and a reputable brand that I return to time and time again for their high quality and trustworthy products. It was founded in 1974 by UK based aromatherapy expert Robert Tisserand and the company strives to spread the joy of aromatherapy and make it accessible to the masses.
All of their products are 100% cruelty free and vegan, and their lavender essential oil is 100% pure and steam distilled from the stalks and flowers of the Lavender Angustifolia plant.
With this lavender essential oil you can choose between a 100% organic variety that is accredited by the Soil Association and free from fertilisers, herbicides and pesticides (which I would recommend). Or an ethically harvested version, which is grown in its natural habitat and harvested to protect the health and abundance of the species (but not guaranteed to be organic).
---
5. Plant Therapy Lavender Essential Oil
Plant therapy is one of the most popular essential oil brands out there, and it's not difficult to understand why! Their goal is to positively impact the lives of as many people as possible, while selling their high quality products at an affordable price!
All of their oils are unadulterated, free of synthetics, 100% pure and cruelty free. To prove it, each product goes through multiple rounds of testing by an essential oil expert, as well as by several third-party laboratories. If you want to see the reports, all you need to do is ask! This is perfect reassurance if you're skeptical of the many essential oils on the market (as you should be)!
Plant Therapy's lavender essential oil is KidSafe, a range that the company has come out with to ensure children only use the purest and safest oils. This means it is perfect for the whole family! Plus, if you ever have any questions you can reach out to the team of certified aromatherapists that work for the company, who promise to help you with all of your questions!
---
6. Woolzies Lavender Essential Oil
Woolzies is owned by Kathy, who learned about natural home and wellness products when she realised laundry products were making her family sick. She did her research and learnt that the mass market was caught between misinformation and false advertising, so she made it her mission to change it.
She started her brand in 2011, creating all natural and eco-friendly laundry products. In 2013 she expanded to developing 100% pure therapeutic grade oils!
Woolzies lavender essential oil is 100% pure and guaranteed not to include any parabens or artificial fragrances. It is from steam distilled Lavandula angustifolia and the bottle contains a dripper insert that helps to control the dispensing of the oil. Plus, if you're not happy with your purchase, they offer a money back guarantee!
---
7. Orchid & Temple Lavender Essential Oil
Orchid & Temple's mission is rooted in the belief that your body is a temple. That's why they seek to provide our bodies with products that are pure, natural, undiluted and of therapeutic grade. All of Orchid & Temple's products are paraben free, non GMO, cruelty free, fair trade, sodium and sulfate free and contain sustainably sourced organic ingredients – that's a big list!
Orchid & Temple lavender essential oil is 100% pure and sourced from the northern mountains of India, before being bottled in the USA in an amber glass bottle with a handy dropper. As a bonus, they even throw in a free travel roll on!
Plus, this lavender oil is noted to have an extremely potent smell so it's one to look out for if you're looking for the best smelling lavender essential oil!
---
8. DoTerra Lavender Essential Oil
DoTERRA were founded in 2008, with the mission to share therapeutic-grade essential oils with the world after seeing their incredible benefits firsthand. The company was named doTERRA, which is latin for "Gift of the Earth".
To ensure essential oil users get only the purest, highest-grade oils, DoTERRA created a new standard of therapeutic quality, called CPTG Certified Pure Therapeutic Grade, so you can rest assured that all of their products are the highest quality.
What's more, doTERRA is a company with a difference! Sustainability is at the forefront of their values and they partner with local growers across the globe. They also run their own nonprofit organization, called the doTERRA Healing Hands Foundation, which offers resources and tools to sourcing communities and charities to raise self-reliance, improve access to healthcare, promote education, progress sanitation and fight against human trafficking. If you want to contribute to changes like these, doTERRA might just be the essential oil brand for you!
One thing I must note is that some buyers on Amazon have reported getting fake products when attempting to purchase doTERRA oils. This can be avoided by selecting a reputable seller with a doTERRA wellness advocate number on their page!
---
So there you have it, that concludes my list of the best lavender essential oils out there.
I hope that this post has helped you to narrow down the huge market of lavender essential oils so that you can pick a trusted product and experience the many benefits of lavender oil for yourself.
Looking for more beneficial oils? Check out my comparison of CBD oil and Copaiba oil and The 8 Best Essential Oils for Heart Chakra Healing and Love.
If you found this post helpful, why not pin it using the image below?
---
Esther is the founder of Through the Phases. Her mission is to guide others to grow to their full potential and create their dream life using spiritual and personal growth practices. Read more about her story here!
---