While my passion traditionally lies in reading tarot, in recent years I have delved into the world of Oracle and it's safe to say I am hooked.
I am now not only a self-confessed tarot addict, but an oracle addict too, and so I am always on the lookout for the best oracle decks for my own practice and to incorporate into my tarot readings too.
In fact, exploring new oracle decks has become somewhat of a hobby for me and my collection of oracle decks is definitely expanding at a rapid pace to the point where I'm running out of room to store them…
I'm not complaining though, because through my deck collecting addiction I have discovered some wonderful oracle decks that I think you will love just as much as I do!
Whether you're looking for the best oracle decks for beginners, the most beautiful oracle cards, or the most popular oracle decks, I can almost guarantee that there will be a deck in this list for you or to gift to someone you love!
So keep reading to see which oracle decks are calling you – there are some decks here that are not to be missed!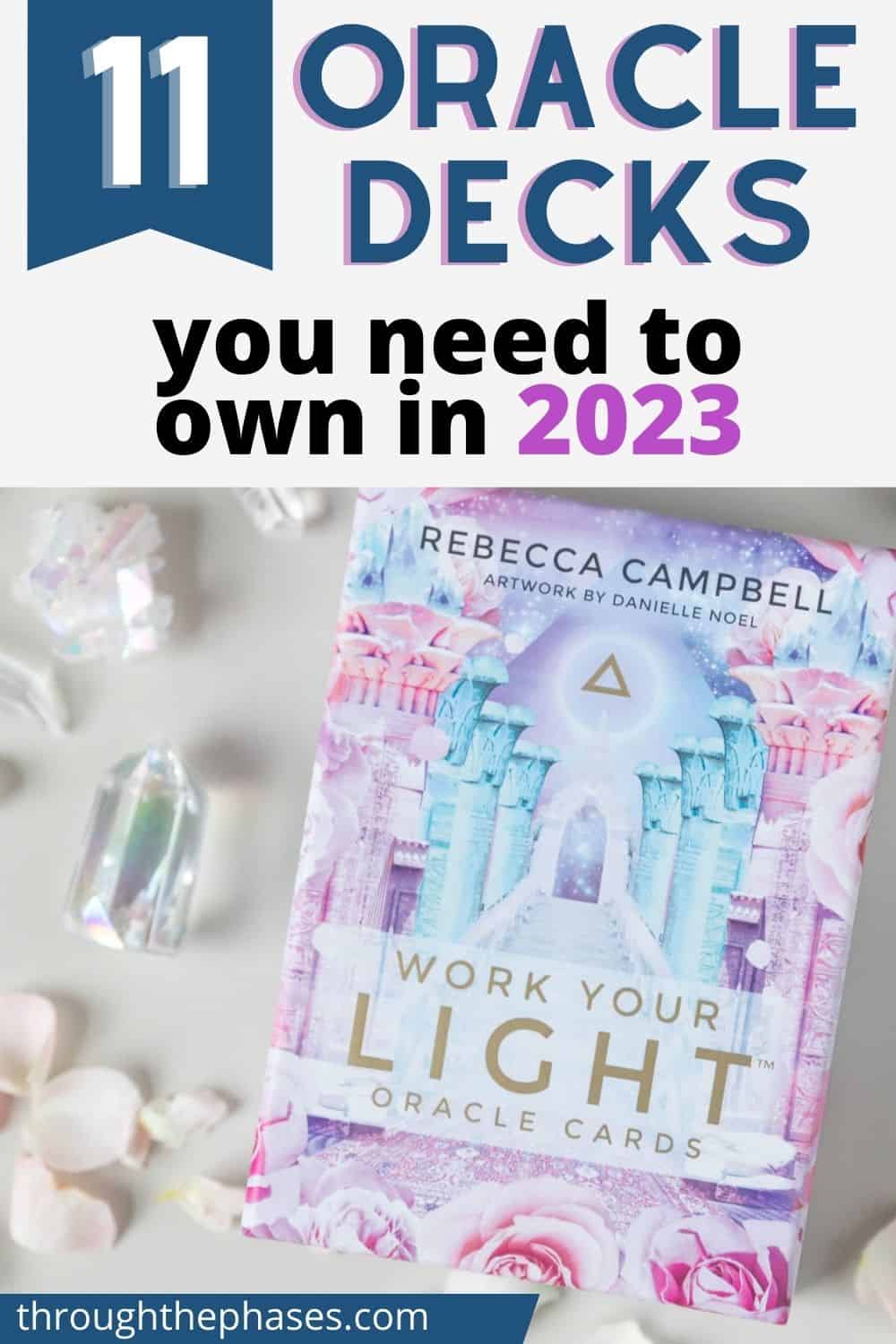 This post may contain affiliate links. Click here to read my full disclosure.
What are oracle decks?
Before we get onto some of the best oracle cards (in my humble opinion), let's cover the basics – what are oracle decks?
Well, simply put, an oracle deck is a set of cards that are used as guidance, whatever this might mean to you.
For example, some readers of oracle may use the cards to connect to angels, spirits, or ancestors. In this way, the cards are used as a divination tool to connect to other realms.
Related:Synchronicity and Signs from the Universe That You Shouldn't Ignore
Others may use the cards to connect to their own intuition or higher self, and as a tool to help unlock their own inner wisdom.
And similarly, some readers may simply use oracle as a self-awareness tool (this is my primary preference).
Pulling an oracle card can help you to look inside yourself and get introspective. This can help to guide you to make important decisions or get to know yourself on a deeper level.
Oracle vs Tarot Cards
Now, I know what you're thinking… so what's the difference between oracle cards and tarot cards?
This is a question that I get a lot, but it's a very valid one, and most likely a question that I asked myself when I was beginning my tarot journey.
The difference is that the Tarot is a fixed system of 78 cards, with meanings which tell a story through the Minor Arcana and the Major Arcana.
The Tarot is a system that's been around for hundreds of years, and while numerous different tarot decks have been created since it's beginning, the general meanings of the cards always remain the same.
This means that the Tarot is a system that can be learned and transferred from deck to deck. A tarot reader, like myself, has an ingrained understanding of tarot card meanings and can use this to read tarot for themselves and others.
Oracle is slightly different because, unlike tarot, there is no set system or story that is consistent from deck to deck.
Instead, each oracle deck is unique, with the cards and the meanings chosen by the creator of the deck.
This means that each oracle deck can have an entirely different focus or use a different system to transfer wisdom through the cards.
For example, some oracle decks may use angels or goddesses to guide you, while other decks may be more grounded to the earthly realm, using the wisdom of animals and nature.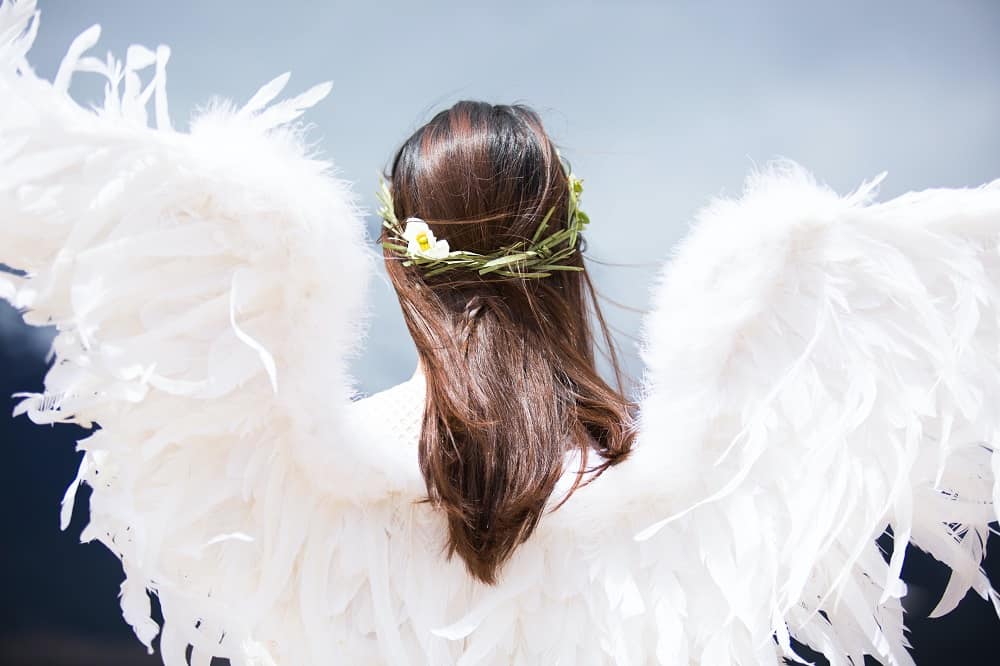 The benefits of using oracle cards
Although my love will always be for the tarot, there are some definite pros to using oracle cards and as a result, they have now found a permanent place in my practice!
These are some of the reasons you might want to explore oracle cards:
Connecting to the divine: you can use your oracle cards to connect to spirits, ancestors or angels, if this is part of your belief system. The cards can channel

messages and guidance

that you might need to hear right now.

Decision making: oracle cards are a great tool to help guide you when making important decisions in your life. They can provide you with answers when your path seems unclear and help to provide some clarity in these areas.

Self-awareness: using oracle cards can

prompt you to look inside yourself

and look for ways in which you can relate to the messages you're being given. This is a great way to build self-awareness and get to know yourself on a deeper level.

Improving intuition: the more you pull oracle, the more you access your intuition. In the moment when you pull a card, your subconscious is drawn to the surface to interpret the card's meaning to you. This is effectively training your intuition, which you can extend to other areas of your life.
And yes, tarot does have all of those benefits too, but a benefit that oracle has that tarot doesn't (I feel like a traitor saying this) is that each and every oracle deck has its own unique purpose that can be tailored to your own personal belief system and needs.
That is to say, if you believe in angels you might be searching for the best angel card deck.
If you want to connect to your ancestors you can find an ancestor focused deck.
If you want to focus on self care you can purchase self-care oracle cards.
I could go on and on, because there is pretty much an oracle deck out there for everyone, and this is what I love so much about oracle!
But not only this, if you're a tarot lover like me, oracle can be a great tool to enhance your tarot readings.
In fact, whenever I do a tarot spread now, I like to pull an accompanying oracle card for more info.
This is a great way to enhance a reading and provide clarity, especially if you're new to tarot!
Related: Tarot Reading Tips: 11 Tarot Practice Exercises for Beginners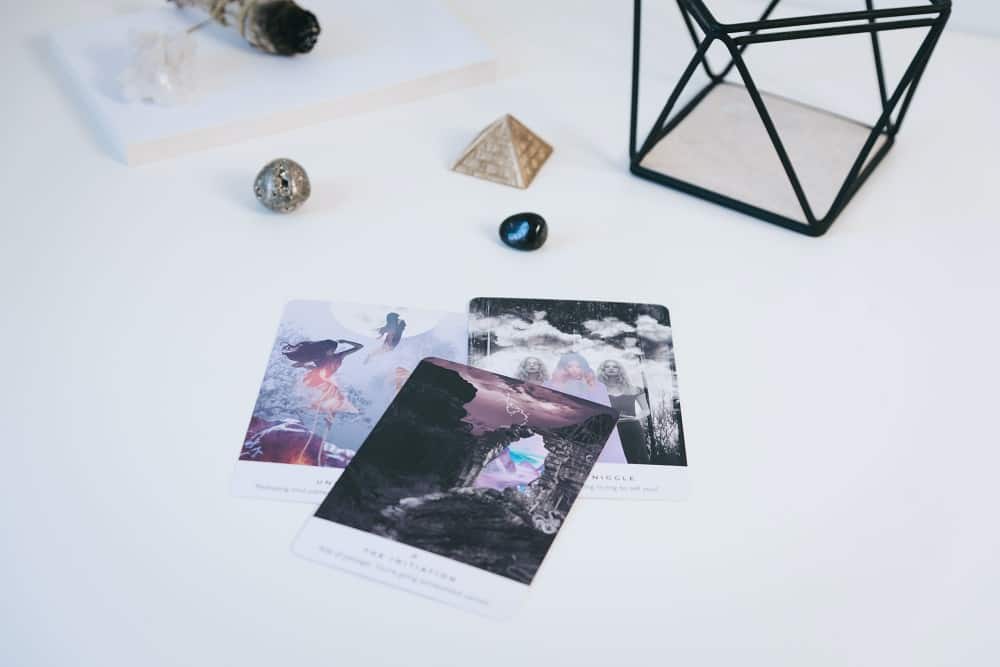 What makes a good oracle deck?
So you came here because you're looking for the best oracle decks, right?
But truth be told, what one person views as the best oracle deck may not be what another views as the best oracle deck, because there is no one size fits all when it comes to these things.
However, there are definitely some criteria that you can look for when choosing your deck, which is the same criteria I have used to create my list of the 11 best oracle decks in this post….
Here's what to look out for…
Focus: this is something that is going to be unique for each and every person, because we all have different ideas of what we want to gain from an oracle deck. Are you someone that wants to use oracle for divination purposes? Or are you looking for a way to build self-awareness? Read the description of an oracle deck to get a good idea of what the creator's intentions were with the deck in question and see if this aligns with your intentions for using the deck.

Theme: you're going to connect better with things that you enjoy. It wouldn't make sense to choose an angel oracle deck if you really don't believe in angels. Are you an animal lover? Do you love being in nature? Go for a deck with a theme that you enjoy because it will make it much easier to relate to your cards!

Design: imagery is very important when choosing your deck. You want to choose a deck that you find visually appealing. Some people may prefer more traditional looking cards whereas others may prefer modern designs. You may also be drawn to more feminine or masculine cards depending on your own energies.

Number of Cards: while a tarot deck will always have 78 cards, the number of cards in an oracle deck can vary significantly. It is up to you how large of a deck you would want, but I would suggest decks that have upwards of 40 cards to ensure that there are a variety of meanings and energies to work with.

Quality: the quality of the cards is an important factor for me when choosing the best oracle deck to purchase. If your cards are too flimsy they will be prone to damage and will wear more quickly. Similarly, cards that are too thick and stiff can be very difficult to shuffle!

Guidebook: while your end goal might be to read oracle intuitively, I believe that the best oracle decks will always come with a guidebook, and a high quality guidebook at that! This is because guidebooks can really help you understand the creator's intentions in order to connect with the card's energies on a deeper level before you are familiar with them.

Packaging: oracle decks often come in a small box, those some may not. Whether this matters to you is entirely up to you, but some of you may prefer to get your oracle in a little bag or may not have a preference at all. If you're getting your oracle deck as a gift, then a keepsake box (which is larger and more fancy than your regular box) can be a really nice touch too!

Intuition: ultimately, what choosing the best oracle deck for you comes down to is your intuition. If a deck goes against any of the above guidelines but you still feel like it is calling you for whatever reason, go for it!

Never

ignore your intuition.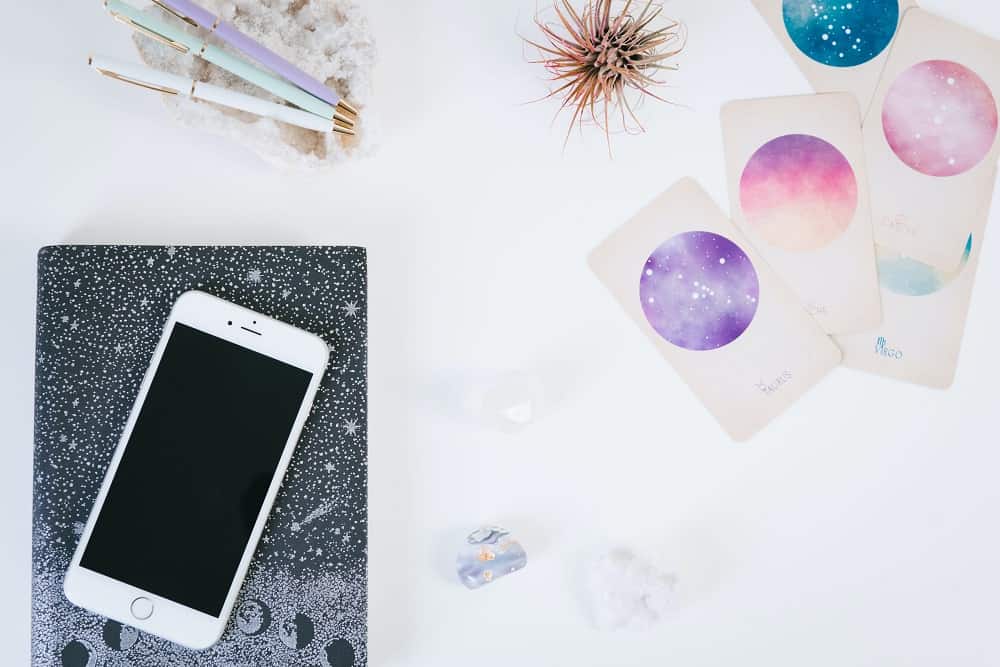 The 11 best oracle decks in 2023
With all that being said, let's jump into the 11 best oracle decks to get your hands on this year, according to my own experience and criteria…
You'll find everything from the best oracle cards for beginners to my personal favourite decks (and why) so make sure you read through the whole list!
The Sacred Destiny Oracle Deck is my personal favorite, and a deck that I use most days to guide me and set me up for the day. This deck features 52 cards that are great for daily guidance and personal growth.
I'd say the Sacred Destiny is a great oracle deck for beginners, because the guidebook is very clear and easy to navigate.
Plus, the design of these cards are, in my opinion, absolutely stunning. And they're not too feminine, which is a problem that a lot of people find with oracle decks.
The theme of this deck is nature, or more specifically, "sacred landscapes". So if you're a nature lover, this might just be the best oracle deck for you!
---
If you're looking to explore oracle to access your own intuition and connect to your higher purpose, the Work Your Light oracle deck is an amazing one to do this.
This is a 44 card deck with beautiful feminine designs, that have a very light and floaty feel.
The cards are split into categories with different purposes to "work your light". These are:
Confirmation cards: to give a quick hit of instant guidance
Inquiry cards: to help you tune into your soul
Action cards: to guide you with decision making and taking action
Activation cards: to invoke personal healing
Transmission cards: to connect to supportive energies
Not only does the guidebook break down each of the cards in detail, but it comes with tips on how to attune your cards, activate your soul space before reading, create different spreads and even give readings for others!
---
You might be familiar with this deck if you're already a fan of the Wild Unknown Tarot Deck.
In my opinion, this oracle deck is mind blowingly beautiful, which is why it just had to make it into my collection.
The Wild Unknown Animal Spirit deck is focused on using the energy of real and mythical animals for self-awareness. The guidebook gives you insights about each energy when in and out of balance, plus guidance to get into balance.
So if you're an animal lover and a self-awareness addict (like me!) this 63 card deck is seriously a no brainer.
And not only this, but this deck comes in an amazing metallic/iridescent keepsake box, which sets this oracle deck apart when it comes to gift giving!
---
The Moonology Oracle deck is another favorite of mine. It's great for those who are into astrology and the moon, which is of course why I love it so much!
This 44 card deck uses the different moon phases to guide your life. The card design is simplistic but beautiful, and it's the perfect deck to use as part of your moonology practice.
The guidebook helps talk you through how to interpret the cards and work with the energies to create, plan and predict your life. This is the ultimate deck for decision-making, so if this is your reason for using oracle then this is a great option for you!
---
Using oracle for divination purposes? The Angels and Ancestors Oracle Deck is a powerful and unique deck that you should definitely check out!
This deck combines Celtic, Native American, Aboriginal and Earth-based spiritualities in one singular deck, to give a variety of help, guidance, knowledge and healing energy to you, whatever your belief system.
This oracle deck is made of 55 cards and comes with an accompanying guidebook split into four sections:
Sacred ones – 30 cards
Guardians and Messengers – 12 cards
Warrior Symbols – 9 cards
Seasons – 4 cards
---
A Yogic Path Oracle Deck is based on sacred figures and concepts that are a core part of yoga and Ayurveda. So if you're a yogi, this one is for you!
This 54 card deck is designed to guide you on your yogic journey, with a guidebook to give complete descriptions of each card and suggestions for working with the deck.
What I particularly love about this deck is the stunning designs of the cards, with the even more beautiful keepsake box to match. This deck is definitely the best oracle deck to purchase as a gift for a yoga lover!
---
The Starseed Oracle is another stunning deck by Rebecca Campbell (the creator of Work Your Light). The design is visually similar to her other deck, though the Starseed Oracle comes in a unique box that opens to reveal a triangle.
This triangle is meant to represent the connection between the Universe and the Earth, and is designed to place your selected card/s in during use. It's a unique and fun concept if you're exploring your spiritual side!
Each of the 53 cards are designed to support you on your soul's path, with the guidebook including calls to action in order to unlock your soul's unique gifts and connect with your cosmic origins.
---
Not all that into spirituality, but looking to use oracle as a tool for self-improvement and self care? I got you!
The Sacred Self Care Oracle is the perfect deck to guide your self-care practice. While it is focused on helping you create rituals to nourish your soul, you don't have to be a hardcore spiritualist to use the practices from this 55 card deck.
What I love most about this oracle is that the guidebook comes with mantras, journal prompts and additional guidance for each card. These are amazing features when it comes to personal growth and this is why this is one of the best oracle decks for this purpose!
---
If you're looking for an oracle deck that's super unique, this is your guy!
This Wild Unknown deck is focused on archetypes, otherwise known as ancient, universal symbols that have withstood the test of time and reside deep in our psyche.
This whopping deck has 78 uniquely shaped circular cards, making it the largest deck known to me! These cards are divided into four suits: The Selves, The Places, The Tools, and The Initiations.
In my opinion, this is a must have deck simply for the uniqueness of the design and the focus, but also because I believe this is an amazing deck for self-exploration and developing your intuition!
---
Another one for the animal lovers, the Spirit Animal Oracle is a 68 card deck that uses the higher spirits of different animals, insects, fish and birds to guide you.
What I love about this deck is that each card features a short sentence that makes it easy to interpret intuitively, even without the guidebook.
However, if you want to explore the cards in more depth, the guidebook is even more amazing and offers deeper explanations of each card.
Perhaps my favorite feature of the guidebook is that it explores the meanings of each card if they appear upside down. If you're a tarot reader who is familiar with reversals, this is a unique feature to an oracle deck, which might add a bonus to your practice!
---
Want to unleash your own inner goddess? The Goddess Power Oracle features 52 cards with goddesses from cultures all over the world.
The artwork on these cards is phenomenal and is something that really draws me into this deck. And, if you purchase the deluxe edition, the deck comes in an equally beautiful keepsake box, which makes it perfect for gift giving!
This is another guidebook that features meanings of both the upright cards and their reversals, a feature that I'm sure many tarot lovers will appreciate!
---
And that concludes the best oracle decks of 2023!
As always, I will be sure to update this post as other decks make their way into my favorites.
And if you believe there is a deck that you think should make the cut, don't hesitate to get in touch – I am more than happy to hear your opinion on the best oracle cards!
Looking for more content like this? Check out these posts…
Don't forget to pin this post!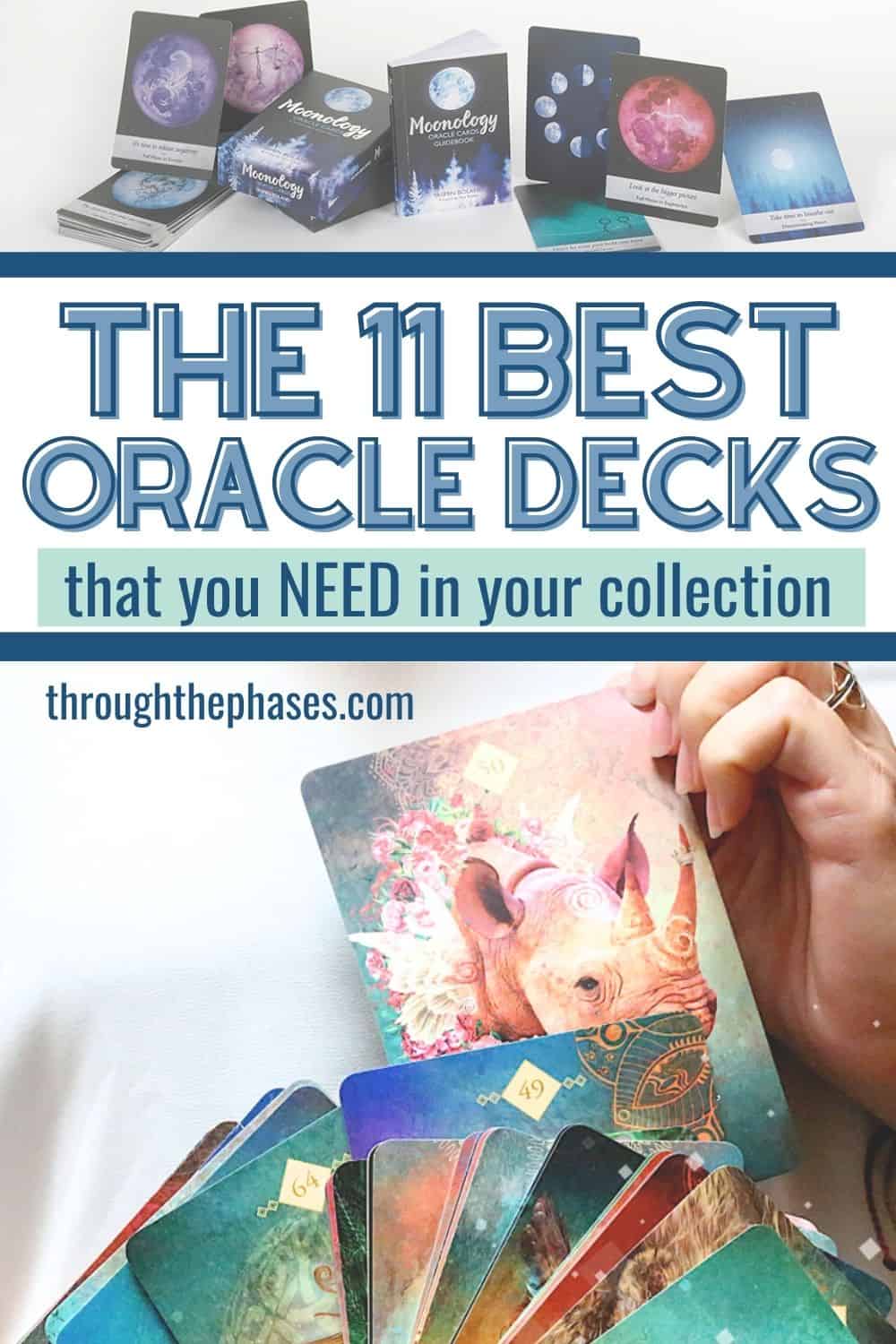 ---
Esther is the founder of Through the Phases. Her mission is to guide others to grow to their full potential and create their dream life using spiritual and personal growth practices. Read more about her story here!
---