In my opinion, the most important part of manifesting successfully is understanding the Law of Attraction in great depth.
Without this understanding, common mistakes are made and you'll struggle to attract the dreams and desires into your life that you wish to bring into reality.
For me, and many others, this is where Law of Attraction books are so useful for any manifestation practice.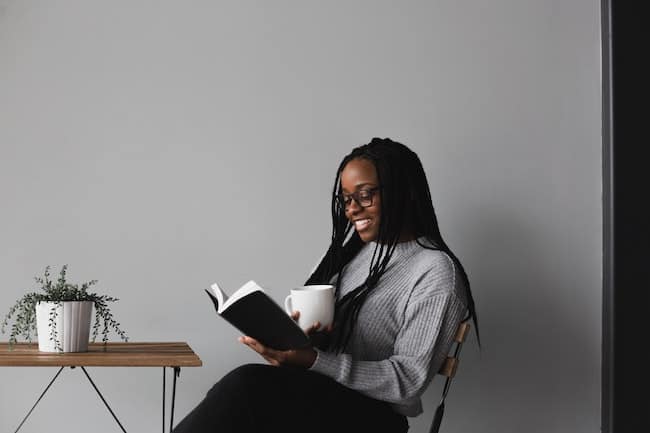 Some of the best Law of Attraction books have the power to open your mind to factors of manifestation that you might not have previously considered.
They can also serve to inspire and motivate you with real life stories and actionable steps that make it easier to create your own action plan and to start implementing results-oriented techniques rather than just hoping for the best.
I truly believe that they can help you too and so I've compiled a list of some of the best Law of Attraction books that can help you manifest anything from wealth and success to love and happiness!
This post may contain affiliate links. Click here to read my full disclosure.
The 21 best law of attraction books to manifest any desire
Wherever you are on your manifestation journey, there is a book that can be the missing puzzle piece between where you are now and where you want to be.
But to get the most from the best books on the law of attraction, you need to actually implement what you read and be consistent in your practice.
It's also important to note that different manifestation books and authors will appeal to different people.
So if you don't like one law of attraction book then don't give up on them altogether. There is a book out there that has the power to change your life!
With that being said, these are the 21 best Law of Attraction books to transform your manifesting practice!
---
Books on manifesting your dreams
Whatever dreams you want to achieve, there is a book that can teach you just how to make them reality!
These manifestation books encourage you to dream big and to know that anything is possible when you apply the Law of Attraction in your own life.
---
This book by Mike Dooley highlights the fact that we are the creators of our own lives and the potential that we have is limitless!
This truly inspiring read can help you to understand the power that you have and empower you to transform your beliefs and attract better!
---
The Secret is the book and documentary that brought the Law of Attraction into mainstream culture and opened up millions of minds to our inner power.
This book particularly focuses on the influence of our thoughts on our vibrational level and what we attract, using real life experiences to paint a picture of the process of manifestation.
---
The Power of Intention explores the energy that is connected to our intention and describes how we can use this energy to step into success.
Wayne Dyer aims to help you tune into the energy of "connectors" so you can start co-creating your life with the Universe.
---
Ask and It Is Given is written by Esther and Jerry Hicks, though this book is said to represent the teachings of Abraham, a nonphysical entity that communicates via the pair.
Related: 46 Inspirational Abraham Hicks Quotes to Live By
This book aims to help you learn how to manifest your desires in the form of relationships, health, finances and career opportunities, using the powerful laws of the Universe!
---
The Master Key System claims to hold the necessary methods needed to unlock your power to achieve success in all areas of your life.
The book includes 24 lessons to work through in order to master the Law of Attraction and start manifesting your desires.
---
In this book, Mike Dooley breaks the Law of Attraction into a seven step strategy to achieve your biggest dreams.
He uses practical tips and actionable strategies throughout so that you can learn how to apply these teachings into your own life and start seeing results!
---
Best books on manifesting abundance
If your goal is to manifest more wealth and abundance into your life then these books are the perfect place to start!
These Law of Attraction books will help you to transform your money mindset and incorporate the techniques needed for more riches!
---
This book claims to be written with "skeptics in mind" meaning it is perfect for anybody who struggles to comprehend the Law of Attraction but is still interested in exploring it further.
Wealth Beyond Reason combines science with the Law of Attraction to show you how it is possible to create a life of abundance and prosperity in ways that cannot necessarily be explained by reason alone.
---
In this book, Napoleon Hill uses stories of some of the most famous millionaires from his generation to illustrate the power of the Law of Attraction, or Law of Success.
Think and Grow Rich lays the foundations and shows you the techniques that can help you build wealth in your own life using your thought processes.
---
This is one of the earlier books on the concepts that we now understand as the "Law of Attraction", and this can help you understand this law and the Universe in depth.
The author stresses the importance of energy work throughout and will inspire you to change the way you think and live your life in order to attract riches!
---
This book is written by an author who used the Law of Attraction to shift her own reality from bankrupt to a multi-millionaire.
The Map to Abundance shows you step by step how she shifted her limiting beliefs and abundance blocks and took action in the physical world to manifest an abundant life.
---
The author of Secrets of the Millionaire Mind suggests that why some people change their fortune easily and others struggle is due to the "money blueprint" that is ingrained in their subconscious minds from childhood.
The book argues that you can know everything there is to know about finance but unless you reset your money blueprint you will continue to live without fortune.
The author also reflects on the thoughts and feelings of established millionaires to see what sets them apart, giving you action steps to use in your own life to attract more wealth and abundance.
---
Rich as F*ck is the bestselling money manifestation book by online Law of Attraction coach Amanda Frances.
This book is all about getting over your limiting beliefs and blocks surrounding money so that you can invite more of it in – more than you know what to do with in fact!
Amanda believes that it is everyone's birthright to earn as much money as they desire. All they have to do to achieve it is step out of their own way and become an energetic match.
---
Denise Duffield-Thomas believes that attracting and making money shouldn't have to be this hard, especially for women.
Get Rich Lucky Bitch is all about empowering women to make money from their talents and manifest what they're actually worth.
This law of attraction book will help you unlock your hidden potential for abundance by overcoming your money blocks and going on a journey of self-discovery.
---
Best books on manifesting success
Your definition of success is completely independent to you, but whatever you believe success to be, know that you can make it happen with the help of these books!
These are some of the best books on manifesting success that will empower you and encourage you to step into your light.
---
This book is all about getting from where you are to where you want to be by learning how to increase confidence, overcome challenges, live with purpose and manifest your ambitions.
Jack Canfield includes 64 principles for success that you can use in your own life, no matter what your goals are.
Throughout he reflects on stories from those considered to be highly successful from CEOs, athletes and celebrities to everyday people like you and me.
---
Habits for Success is the blueprint to manifest a purpose filled life of growth and success. The author uses stories from his own growth journey to inspire you to progress on your journey to success.
This book includes 46 life changing habits to cultivate heightened self-awareness and manifest successful change in your own life.
---
Get your FREE Manifestation Blocks PDF to achieve your manifestation breakthrough
---
Books about manifesting love
Attracting the perfect relationship for you is entirely possible if you learn how to apply the Law of Attraction to love.
These books about manifesting love will teach you the unique methods to become the perfect match for your ideal partner and begin manifesting relationships that serve your highest good!
Related: 50 Soulmate Affirmations to Attract Your Soulmate
---
The Magic of Manifesting gets into the nitty gritty of the kinds of things that are blocking you from the kind of love that you desire, and ultimately leading you to the wrong people.
Related post: The 6 Most Common Love Blocks and How to Clear Them
Comprised of 15 manifestation techniques, this book will help you to not only attract a relationship, but a healthy one that serves your highest good.
---
The Soulmate Secret is a step by step guide to calling in your soulmate, that empowers you to believe that the one for you is not only out there, but also searching for you.
Using processes that she calls "feelingizations", the author describes how to manifest the partner of your dreams. These are the very techniques and rituals that she used to attract her own soulmate at age 44.
---
Meeting Your Half Orange is based on brain science and psychology, but can also be explained by the Law of Attraction.
The goal of this book is to teach you how to adopt a positive mindset about dating in order to rewire your brain in order to manifest the ideal "other half".
By becoming so focused on the things that you do want, as well as learning to love yourself, you will finally be able to attract the right person into your life.
---
BEST LAW OF ATTRACTION WORKBOOKS
As I mentioned earlier, the reason the best law of attraction books are so helpful is because they give you the knowledge that you can then implement consistently in your own life to get results.
But for some people it can be all too tempting to read something useful but never actually take action on it.
If this sounds like you, then a law of attraction workbook which encourages you to stay accountable and implement your new knowledge might be what you need.
These are some of the best manifestation workbooks that can help you get the results you're looking for.
---
If you want to implement the powerful advice that Amanda offers in Rich as F*ck, then this journal is the perfect tool.
The journal is designed to accompany the book so that you can make the most out of the knowledge Amanda is teaching and manifest abundance once and for all.
---
Ready to up level your money mindset and learn to manifest abundance quickly? This workbook by manifestation babe Kathrin Zenkina is designed to do just that.
This 21-day law of attraction workbook will walk you through the process of overcoming your limiting beliefs around money and adopt a new mindset of wealth and abundance, with the goal of manifesting your first $1000 in just 3 weeks.
---
Remember what I said about the importance of consistent action to manifest? Well this law of attraction book goes beyond theory and will help you create a practical law of attraction method to manifest your desires.
Written by an experienced hypnotherapist, this book will guide you through using a variety of techniques to manifest such as meditation, visualisation, self-hypnosis, journaling, gratitude and affirmations.
---
And there you have it, those are the best law of attraction books to find success on your manifestation journey.
I truly believe that these are some of the best Law of Attraction books out there, and if you really commit to your practice and apply the principles you learn in them then you can manifest anything you desire.
Just don't forget that to get the most out of these manifestation books you need to implement what you learn, take inspired action and stay consistent in your practice.
Have you read any of these books? Are there any books that you feel should make the list?
Liked this post on the best law of attraction books? Check out some of these related posts:
Don't forget to pin this post!
---
Esther is the founder of Through the Phases. Her mission is to guide others to grow to their full potential and create their dream life using spiritual and personal growth practices. Read more about her story here!
---